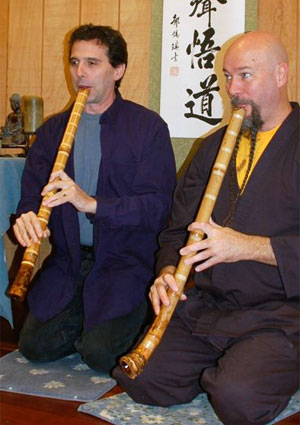 Lessons: Home Studio
Michael offers private lessons in his home studio, Chikuzen Dojo. The Dojo operates from 9:00am to 10:00pm six days a week so just call or email to schedule your lesson! All levels from beginner to professional are welcome. You will learn correct posture, how hold the flute to facilitate technique and limit injury, and how to read Japanese shakuhachi scores. You will experiment with the variety of breathing techniques used to produce the many rich sounds of shakuhachi. You will also learn about the history of shakuhachi and Japanese culture, especially the Zen culture that exerted such a great influence on shakuhachi.

Chikuzen Dojo offers training in:
The complete Dokyoku repertoire in the style of Yokoyama Katsuya
Japanese folk tunes and lullabies
Select pieces from the Kinko and Meian sects
Sankyoku ensemble pieces to play with koto and shamisen
Modern ensemble pieces for shakuhachi and koto
Modern solos and duets
Lessons are 75 minutes in length and the fees are:
1 lesson: $60.00 US.
2 lessons per month - $105.00 US.
Buy a chunk of 5 or more lessons to use at your discretion: $50 US per lesson. For example, 10 lessons equals $500 US.
Note: Evaluating flutes is part of the learning process at Chikuzen Dojo, but you will be charged for any time devoted to this beyond your 75-minute lesson, as it is a highly specialized skill. I will help you develop the skills for doing this yourself so as to eventually remove myself from the decision making process as much as possible.

Send me an email if you're are interested and/or have questions about these lessons.
For other types of lessons offered, see: