These compact discs or DVDs featuring Michael Chikuzen Gould represent a lifetime of Shakuhachi playing and may be purchased by contacting Michael.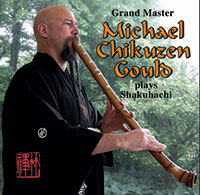 Grand Master Michael Chikuzen Gould plays Shakuhachi
This DVD consists of 6 Honkyoku pieces performed on February 8, 2009 at the Canton Cultural Center for the Arts in Canton, Ohio.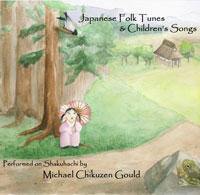 Japanese Folk Tunes & Children's Songs
This CD consists of 26 Japanese Folk Tunes and Children's Songs performed solo in an intimate setting by Michael Chikuzen Gould on the shakuhachi. It is a perfect instructional CD as well as a very listenable collection of joyful music.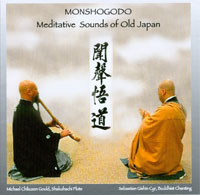 Monshogodo: Meditative Sounds of Old Japan
This CD for accompaniment to meditative activities is a collaboration between Michael and Sebastien Gishin Cyr, a zen monk living in Montreal, Canada. Gishin specializes in Buddhists chanting, especially Shomyo chanting, which is showcased in this CD. The long tones of the shakuhachi bending around in calligraphic like swirls complement the strong pure sounds of Gishins' chanting. There is also a solo version of the Heart Sutra by Gishin and the shakuhachi song, "Koku" played in it's entirety by Michael.
James Schlefer says of this CD: "It is one of the most beautiful CDs I've heard in a long time. The blend of chant and shakuhachi works wonderfully, Chikuzen's playing is superb, and the album is beautifully recorded."
Listen to a musical sample of the song "Koku" (3.88mb, mp3) from this CD.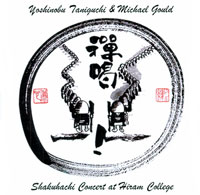 Yoshinobu Taniguchi & Michael Gould
Currently out of stock.
Listen to a musical sample of the song "Shika No Tone" (1.59mb, mp3) from this CD.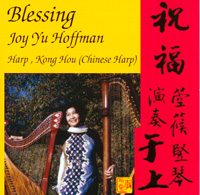 Blessing
This CD, by acclaimed harpist Joy Yu Hoffman, contains her original compositions for kong hou and pedal harp played in traditional, folk, and contemporary styles. She is accompanied by Michael Gould on the shakuhachi and by female vocalists.
Listen to a musical sample of the song "Noon Dancing" (582kb, mp3) from this CD.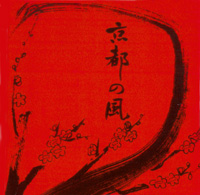 Kyoto Breeze Longing
A CD of koto music played by the gifted Chieko Iwazaki of Kyoto, Japan. Chieko has toured widely in the US with Michael and plays the last track on this CD, "Song of the Wind" with him. She performs the song, "Chidori no Kyoku" here as a solo for koto and voice and is joined on track 3 with her husband, Kuniyasu Iwazaki, to play "Dream Painting."
Listen to a musical sample of the song "Song of the Wind" (1.16mb, mp3) from this CD.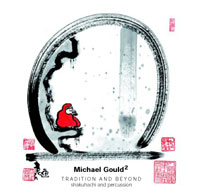 Michael Gould2: Tradition and Beyond
This CD consists of 12 pieces recorded in 2001 by Michael Gould, master of shakuhachi, and Michael Gould, the percussionist. The duo performs traditional Japanese music as well as original compositions using Western and non-Western percussion instruments, and the shakuhachi. Both Michael Goulds lived in Japan for long periods of time and are musicians with a passion for Japanese music.
The compositions that are included in this CD have all started as images. Most of these images were taken from their collective experiences in Japan.
Listen to a musical sample of the song "Happy at Work" (890kb, mp3) from this CD.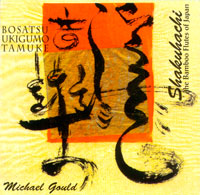 Shakuhachi—Michael Gould
This compact disc consists of 9 Honkyoku songs recorded by Michael Gould in 1997. Honkyoku are the songs which were created by Mendicant Zen monks. These monks wandered the countryside playing the Shakuhachi during their pilgrimages and wishing to be delivered from earthly desires. Unsurprisingly, the titles of Honkyoku are usually associated with nature, i.e. trees, clouds, mountains, valleys, wind, etc.
The three songs, Bosatsu, Ukigumo, and Tamuke are a tonal trilogy used to view the metaphysical landscape of life on Earth, then the freedom from worldly greed and desire, and, finally, the compassion born of such freedom.
Listen to a musical sample of the song "Daha" (831kb, mp3) from this CD.
I feel very honored to be able to pick the brain of such a master player. The lessons are always inspirational. I feel that my association with Michael has improved my playing and my understanding of the shakuhachi.
I have spent many hours practicing and taking lessons with Michael, under whose masterful tutelage I have been lucky enough to learn. In playing I hope to convey some of the joy and the wonder that I feel everytime I pick up the shakuhachi and think back on how it is that I got to be where I am.