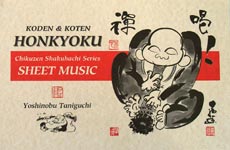 Koden & Koten Honkyoku Scores & 4 volume CD set
The score book, co-authored by Michael Gould and Monty Levenson, is a complement to a 4 volume CD set containing 30 songs played by Mr. Yoshinobu Taniguchi. The book and CDs are published by Tai Hei Shakuhachi.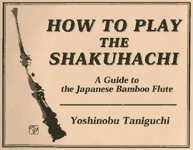 How To Play The Shakuhachi
This score book is authored by Yoshinobu Taniguchi as an introduction on how to play the shakuhachi. A compact disc is available as a learning companion for the book. The book and CD are published by Tai Hei Shakuhachi.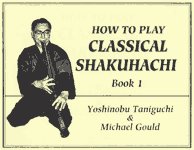 How To Play Classical Shakuhachi Book 1
This book is co-authored by Yoshinobu Taniguchi and Michael Gould. It was created with the intention of its becoming a technical manual for use in the classroom (or dojo) for studying Classical Shakuhachi under the guidance of a master/teacher. The book is published by Tai Hei Shakuhachi.
I feel very honored to be able to pick the brain of such a master player. The lessons are always inspirational. I feel that my association with Michael has improved my playing and my understanding of the shakuhachi.
I have spent many hours practicing and taking lessons with Michael, under whose masterful tutelage I have been lucky enough to learn. In playing I hope to convey some of the joy and the wonder that I feel everytime I pick up the shakuhachi and think back on how it is that I got to be where I am.